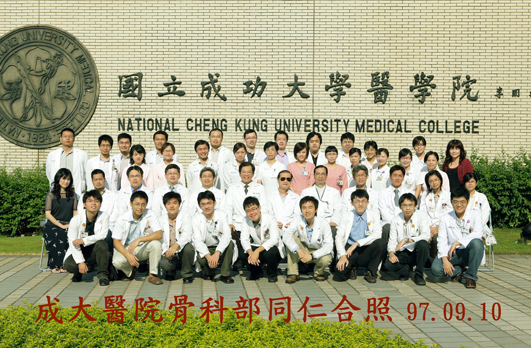 The Department of Orthopedics
I. Prospectus
(1) Organizational Structure
The Department of Orthopedics consists of four divisions and one laboratory—General Orthopedics, Sports Medicine, Spine, Pediatric Orthopedics, and the Orthopedics Research Laboratory.
(2) Staff
The department is staffed with one department director, four division directors, seven attendant physicians, thirteen resident physicians, one technician, one secretary, and two physician assistants.
II. History
The department was established in June 1988, when the NCKU hospital was officially inaugurated, a move highlighting the significance of sports orthopedics as a professional discipline in modern medicine. At its initial stage, the department was staffed with only three instructors from the College of Medicine, who doubled as attendant physicians in the hospital. They managed to overcome all difficulties in an effort to lay a solid foundation for orthopedic education, research and clinical service in the department as well as in southern Taiwan.
In 1998, as a response to the needs for higher quality of medical service and subspecialty training, the department was restructured into four divisions and one research laboratory. Now the department has expanded its staff with seven attendant physicians and thirteen resident physicians. All of them are outstanding in their clinical performance and contributions to the financial growth of the hospital. Meanwhile, the department is furnished with orthopedics wards with a capacity of 50 beds.
On average the department receives a total of 3,000 outpatients and administers 220 operations per month.
Besides medical service, the department shoulders the responsibilities for resident physician internship, clinical instruction, and orthopedics-related research in order to elevate Taiwan's medical service and research on orthopedics to world-class status. Therefore, the physicians of the department endeavor to engage in clinical service, medical research and clinical instruction with a strong presence in the discipline of orthopedics domestically and internationally. Their efforts have paid off, as evidenced by the fact that our resident physicians always pass the annual specialist physician examination and are ranked at the top of the list.